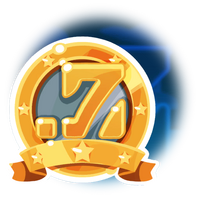 "Style. Sophistication. Other
good things. 7Zee."
The 7Zee Rewards Club is a optional program that rewards highly successful ranchers with unique rewards in exchange of newbucks. Starting at noon on day 7, you'll receive a starmail from the 7Zee Corporation introducing you to their rewards club. You must read the starmail in order to unlock the rewards club.
Each tier of the rewards club costs increasingly larger amounts of newbucks to unlock, but comes with a unique reward. These rewards are generally prestigious, signifying your success in the world of slime ranching, including visual upgrades for your ranch, color customization features, slime toys, and more. The highest tier rewards will cost enormous sums of newbucks to acquire.
Slimepedia
Some ranchers point out that the whole thing seems like a way of siphoning enormous sums of newbucks in exchange for fancy colors and trophies that don't actually serve any real purpose. But those ranchers aren't sporting the latest, most fashionable vacpack colors and obviously cannot be trusted.
Ranks and Rewards
Below is a list of all of the available rewards and the cost for each. Which rank a player has can be seen on the top left of the screen, underneath the time of day.
Title
Cost
(Cumulative)
Ranch
Chroma
Blueprint
Vacpack
1
Initiate
750
Roostro Weathervane
2
Pioneer I
1,000
(1,750)
Fence Upgrade
3
Pioneer II
1,500
(3,250)
Path Upgrade
4
Pioneer III
2,000
(5,250)
Porch Upgrade
5
Skylark I
2,500
(7,750)
Chroma Station
6
Skylark II
3,000
(10,750)
Arch Upgrade
7
Skylark III
3,500
(14,250)
8
Rolling
Beetle I
4,000
(18,250)
Slime Toys Shop
9
Rolling
Beetle II
4,500
(22,750)
10
Rolling
Beetle III
5,000
(27,750)
Advanced Slime Toys
11
Playful Fox I
6,250
(34,000)
Market Link
12
Playful Fox II
7,500
(41,500)
Grotto Upgrade
13
Playful Fox III
10,000
(51,500)
14
Silver Storm I
15,000
(66,500)
Slime Trophy I
15
Silver Storm II
20,000
(86,500)
16
Silver Storm III
25,000
(111,500)
Overgrowth Upgrade
17
Dancing Mongoose I
32,500
(144,000)
18
Dancing Mongoose II
40,000
(184,000)
Slime Trophy II
19
Dancing Mongoose III
47,500
(231,500)
Ultra Dash Boots
20
Endless
Mountain I
60,000
(291,500)
Master Gordo Snare
Tank Booster Ultra
21
Endless
Mountain II
75,000
(366,500)
Heart Module Ultra
22
Endless
Mountain III
90,000
(456,500)
Lab Upgrade
Golden Sureshot
23
Wander Wolf I
120,000
(576,500)
Titan Drill
24
Wander Wolf II
150,000
(726,500)
Slime Trophy III
Abyssal Pump
25
Wander Wolf III
150,000
(876,500)
Royal Apiary
26
Golden Owl I
150,000
(1,026,500)
Docks Upgrade
Gold Slime Lamp
27
Golden Owl II
150,000
(1,176,500)
Gold Warp Depot
28
Golden Owl III
150,000
(1,326,500)
Slime Trophy IV
Gold Teleporter
Starmail
Introductory Mail
This mail is received on day 1.
Welcome to the Far, Far Range
The 7Zee Corporation
Ms. Lebeau:
The 7Zee corporation would like to welcome you to the Far, Far Range:
Welcome.
And extend our support in your bold new venture as a slime rancher:
(support extended)
We would like to request that you exercise caution in your first few days on the range. Untill you get more familiar with your surroundings, traveling at night is not advisable.
Lasty, should you require any additional tools for your vacpack or items to make your slime ranching experience easier, the 7Zee Corporation would be pleased to provide them to you from the shop located just outside your ranch house.
The 7Zee Corporation: Providing the tools you need to get the job done, for us, for a small fee.
- The 7Zee Corporation
7Zee Rewards Club Invitation
This mail is received on day 7 and introduces the player to the 7Zee Rewards club.
The 7Zee Rewards Club
The 7Zee Corporation
Ms. Lebeau:
The 7Zee Corporation would like to extend a very special offer to you: an invitation to the very exclusive, exceptionally choice, highly sought-after '7Zee Rewards Club!'
The 7Zee Rewards Club allows you to earn ultra premium ranks with an exclusive club, for only a semi-ultra premium price. It's just that easy.
Each rank grants you a new title, along with unique rewards such as beautiful upgrades for your ranch, exclusive customization options, and more. We look forward to your enrollment.
The 7Zee Corporation: Offering you a path to tosic greatness, one large sum of newbucks at a time.
- The 7Zee Corporation
Chroma Pack Terminal Installation
This mail is received upon reaching rank 5 (Skylark I) and informs the player about Chroma Packs.
Chroma Packs Now Available
The 7Zee Corporation
Ms. Lebeau:
The 7Zee Corporation would like to congratulate you on reaching the rank of Skylark I. With this rank you now have acces to a new avenue of creative self expression: Chroma Packs.
Chroma Packs allow you to apply new color schemes to your ranch house, vacpack and ranch tech, allowing you to stand out from all the other ranchers on the Far, Far, Range. And while we realize that most slime ranchers never see another rancher given geographic seperation between rancher properties, we have a feeling that they know. Oh, yes, they know.
Please also note that by the time you have likely read this message, the 7Zee Corportion has already installed a Chroma Pack terminal just outside your home.
The 7Zee Corporation: Covertly installing machines outside your home quickly... and reliably.
- The 7Zee Corporation
Ad blocker interference detected!
Wikia is a free-to-use site that makes money from advertising. We have a modified experience for viewers using ad blockers

Wikia is not accessible if you've made further modifications. Remove the custom ad blocker rule(s) and the page will load as expected.