BOb is a NPC found on the Range Exchange.
Not much is known about BOb, who asks for nothing but various chickens in the Range Exchange. His messages suggest that he has difficulty writing. If you look at him closely, "BOb" is merely several Slimes disguised in a trench coat and a fedora.
StarMail
helloooo
BOb

Hello,,
hellohelloooo...chickeNs.
helloCHickens.
chICKEN.

hello,
BOb

PSs.-- chickKn
Range Exchange
askjhsfdkjh!!
cHickeN? chicckens.
hallOO. chikkEN. OKs?
ok oKok OK, OK!! chiCKEn ok?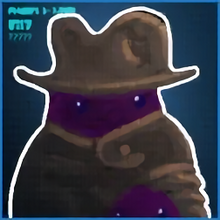 Ad blocker interference detected!
Wikia is a free-to-use site that makes money from advertising. We have a modified experience for viewers using ad blockers

Wikia is not accessible if you've made further modifications. Remove the custom ad blocker rule(s) and the page will load as expected.