This section or article is incomplete.
Reason:
How do you change controls on the Xbox Edition?
You can discuss this in the article comments or edit this page to improve it.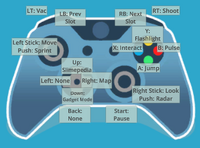 The in-game Controls are the keybinds that allow the player to interact with the game world. They are accessible from the Options menu after pausing the game.
On the PC edition, keyboard controls can be changed from the Input tab, while game controllers can be changed using the Gamepad tab.
Default keybinds
Below are the default controls used for PC and Xbox One. The player can customise these keybinds at any time.
Action
PC
Xbox One
PS4
Move
W / A / S / D
Left Stick
Coming soon
Look
Mouse
Right Stick
Coming soon
Shoot
Left Click
Right Trigger
Coming soon
Vacuum
Right Click
Left Trigger
Coming soon
Pulse Wave
Q / Middle Click
B
Coming soon
Vacuum Tank Slots
1 / 2 / 3 / 4 / 5
Mouse Wheel
Left Bumper / Right Bumper
Coming soon
Jump (hold for jetpack)
Space Bar
A
Coming soon
Sprint
Shift
Left Stick (press)
Coming soon
Interact
E
X
Coming soon
Flashlight
F
Y
Coming soon
Slimepedia
F1
D-Pad Up
Coming soon
Pause
Esc
Menu
Coming soon
Emergency Exit
F2
N/A
Coming soon
Map
M
D-Pad Right
Coming soon
Radar
R
Right Stick (press)
Coming soon
Save GIF File
G
N/A
Coming soon
Gadget Mode
T
D-Pad Down
Coming soon
Save Screenshot
\
N/A
Coming soon