The Cuberry is a fairly common fruit that can be found most abundantly in The Dry Reef, and in the latter area of The Moss Blanket along with Mint Mangoes. They can also be found in the Danger zone towards The Moss Blanket Slime Gate, in The Ancient Ruins and in The Glass Desert once certain oases have been rejuvenated.
About:
Due to their sweet taste and curious shape, cuberries were quick to become a favorite amongst the first ranchers on the range. They are often used in cakes and pies when celebrating special occasions, like birthdays or Plortapalooza.


On the Ranch
Deposit a cuberry into a garden's depositor and you'll grow a large cuberry tree of your own.
Tips
Cuberries grow consistently with a decent harvest yield, so converting harder-to-feed Slimes to Phosphor Largos are a decent choice for the Ranch. Be sure to buy Solar Shields or keep them in The Grotto though!
Map
Note that while these locations are precise, they may be on different elevations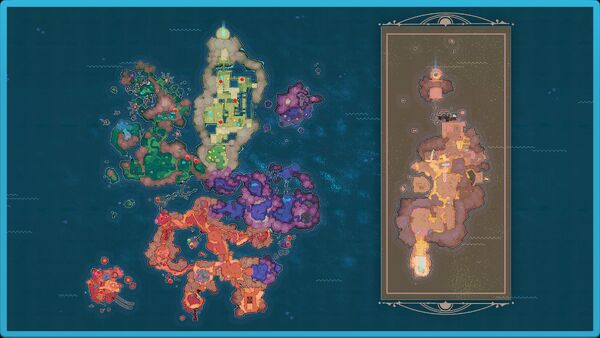 Gallery
Trivia
Cuberries are based on strawberries, but in a cuboid shape.

This might be in reference to the square watermelons that are grown in Japan.

Their tree, unlike other trees, are cubic, most likely because of their shape.
Can be found in the same places as the Tabby Slime.
Plortapalooza is a reference to Lollapalooza, an annual music festival featuring popular bands and artists.