What is the Far, Far Range?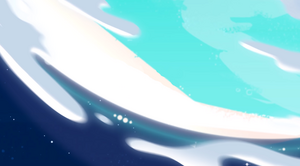 The Far, Far Range is an unnamed alien planet located a thousand light-years from the Earth, whose natural conditions make up the homes of different kinds of slimes. Having found a new source of income, mega corporations from the Earth sent their people to live on the Far, Far Range as hosts on specially equipped ranches where they care for slimes and extract plorts. That is because no slime has ever produced a plort outside of its atmosphere. Connection between the Earth and the Far, Far Range is supported by StarMail. Players exchange plorts for money at the Plort Market. From time to time, 7Zee offers services by trading newbucks for Vacpack Upgrades.
Map
Note: This map has links to each location on each location in the Far, Far Range
The in-game map by default is blanked out and specific areas must be unlocked by activating Map Nodes.
Locations
The Ranch
| | |
| --- | --- |
| | The Grotto - An expansion to the ranch set inside a "slightly spooky" cave. |
| | |
| --- | --- |
| | The Overgrowth - An expansion to the ranch that is covered in moss and tall grass. |
| | |
| --- | --- |
| | The Docks - An expansion to the ranch with a view of the sea and a waterfall. |
The Wilderness
| | |
| --- | --- |
| | The Dry Reef - A territory which was once a coral ocean floor. |
| | |
| --- | --- |
| | The Ancient Ruins - Their origin remains a mystery, as do the strange occurrences that happen within. |
| | |
| --- | --- |
| | The Wilds - Filled with the deepest roots of the slime family tree. |
Special
| | |
| --- | --- |
| | Unknown - Any area of the map that does not belong to any existing biome. |
Upcoming
Trivia
The Far, Far Range appears to be an Ocean planet and has a breathable atmosphere.
Signs of civilization in the Far, Far Range can be seen throughout most of the zones.

Pillars with Slime Statues can be found on the Slime Sea near the entrance of The Moss Blanket.
More signs of civilization can be found in The Ancient Ruins and The Glass Desert, both abandoned ruins of civilization.
There are other man-made constructions in The Dry Reef and The Indigo Quarry, though this may have been done relatively recently by humans.

In one of Hobson's notes, it is said that the people who inhabited The Ancient Ruins loved slimes and created the place for a specific reason, but lately, he says that they created the ruins as a teleportation center to the glass desert. This confirms why Hobson wrote in a note that he learned how to use the ruins.

The Far, Far Range is inhabited by more than ranchers, slimes, and hens. It's inhabited by bird-like creatures called rayvians [1], scuttle bugs, bees, firefly-like creatures, and possibly more.
Maps
References
Ad blocker interference detected!
Wikia is a free-to-use site that makes money from advertising. We have a modified experience for viewers using ad blockers

Wikia is not accessible if you've made further modifications. Remove the custom ad blocker rule(s) and the page will load as expected.