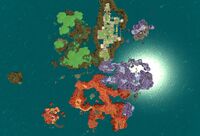 The Far, Far Range is an unnamed alien planet located a thousand light-years from the Earth, whose natural conditions steels a home for a lot of kinds of Slimes. Having found a new source of income, megacorporations from the Earth sent their people to live on the Far, Far Range as hosts on specially equipped ranches where they care for slimes and extract plorts. That is because no slime has ever produced a plort outside of its atmosphere.
Connection between the Earth and the Far, Far Range is supported by StarMail. Players exchange plorts for Newbucks at the Plort Market. From time to time, 7Zee offers services by exchanging newbucks for Vacpack Upgrades.
Locations
The Ranch
| | |
| --- | --- |
| | The Grotto - an expansion to the ranch set inside a (slightly spooky) cave. |
| | |
| --- | --- |
| | The Overgrowth - an expansion to the ranch that is covered in moss and tall grass. |
| | |
| --- | --- |
| | The Docks - an expansion to the ranch with a view to the sea and a waterfall. |
The Wilderness
| | |
| --- | --- |
| | The Dry Reef - a territory which was once a coral ocean floor. |
| | |
| --- | --- |
| | The Ancient Ruins - their origin remains a mystery, as do the strange occurences that happen within. |
Trivia
The Far, Far Range seems to have oxygen that humans can breathe in, allowing them to breathe normally as if they were on Earth without the need of gas tanks.
Signs of civilization in the Far, Far Range can seen throughout most of the zones.

Pillars with Slime Statues can be found on the Slime Sea near the entrance of The Moss Blanket.
More signs of civilization can be found in The Ancient Ruins and The Glass Desert, both abandoned ruins of civilization.

In one of Hobson's notes, it is said that the people who inhabited The Ancient Ruins loved slimes and created the place for a specific reason.
Maps
Ad blocker interference detected!
Wikia is a free-to-use site that makes money from advertising. We have a modified experience for viewers using ad blockers

Wikia is not accessible if you've made further modifications. Remove the custom ad blocker rule(s) and the page will load as expected.