How is Food Used in Slime Rancher?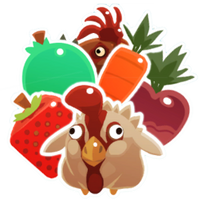 Food refers to all items that Slimes can eat, which in turn produces plorts which can be sold on the Plort Market for Newbucks or deposited into the Refinery for Slime Science. With the exception of Hens and Roostros, if food is left outside uneaten they will turn rotten and eventually disappear, and rotten food will immediately disappear when trying to vac it up. Food can be broken up into 3 main types:
Fruit; which are found on trees
Veggies; which are found growing in soil
and Meat; Hens and Roostros found by nests.
With the exception of Pink Slimes and Gold Slimes (the latter of which has no diet, but exclusively eats Gilded Ginger), Slimes exclusively eat food in the same type as its favorite food; for example a Honey Slime's favorite food is Mint Mango and only eats fruit. Slimes can be converted to Largo Slimes which can have two favorite foods instead of one and potentially expand its diet to another food type. A Slime or Largo eating a favored food will produce double the normal amount of Plorts.
Puddle Slimes, Fire Slimes and Quicksilver Slimes special cases; they consume Water, Ash, and electricity, respectively.
Notes:
Slimes can eat Plorts to induce a transformation into a Largo, or if already a Largo a Tarr, but Plorts are not considered food.
While Chickadoos are themselves not food, they do naturally grow up into the Hen of their type or a Roostro, which are.
The player, as well as almost all other Slimes, are considered food by The Tarr.
Types of Food
Veggie
Fruit
Meat
Future Meat
Chickadoos cannot be eaten by any slime, but grow into their respective Hen or Roostro
Electrical Charges
Electrical Charges can only be stored in the Augmented Vacpack, and can only be used to feed Quicksilver Slimes. They are considered "electricity" by their Slimepedia page.
Other
Favored foods
The following table indicates the favorite food of each slime
Food that is only mentioned
This is a list of food items that are not in the game, but are mentioned to exist on the Far, Far Range.