How is Food Used in Slime Rancher?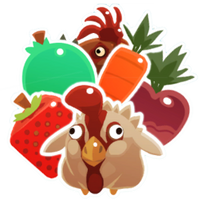 Food is a series of edible items used to feed slimes. Food is broken up into 3 main categories:
Fruit which are found on trees,
Veggies which are found growing in soil,
and Meat which consist of chickens, and are often found by nests.

When a slime eats food it will produce a plort, and its agitation and hunger will both decrease. Each slime has a particular diet, and most of them will eat food from one of the three standard food categories and will not eat foods outside of its diet. In most cases, a slime's favorite food will be in the same food category as its general diet. A slime's diet can be expanded by converting it to a Largo, and can potentially have two favorite foods instead of one. A slime or largo that eats a favored food will produce double plorts.
Fruit and veggies will rot if left on the floor uneaten; rotten food will eventually disappear on its own, but will disappear immediately when making contact with the vac stream.
Types of Food
Veggie
Fruit
Meat
Future Meat
Chickadoos cannot be eaten by any slime, but grow into their respective Hen or Roostro
Electrical Charges
Electrical Charges can only be stored in the Augmented Vacpack, and can only be used to feed Quicksilver Slimes. They are considered "electricity" by their Slimepedia page.
Other
Favored foods
The following table indicates the favorite food of each slime
Mentioned Only
This is a list of food items that are not in the game, but are mentioned to exist on the Far, Far Range.
Changelog
1.3.1 - Fixed an issue where fruits and veggies would almost always be unripe in an area that you haven't visited in awhile.
Trivia