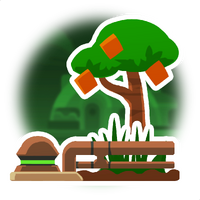 "Nothing beats the taste of food
grown in your own backyard"

The gardens used by ranchers use advanced technology to rapidly grow clones of fruits and veggies in a natural, though greatly sped up way. By placing a sample into the replicator, the gardens soil is instantly populated by a fruit tree or veggie patch and will infinitely produce harvests until the crop is removed. - Slimepedia
Cost: 250
Upgrades
Nutrient Soil
Nutrient Soil
Nutrient soil contains compost from the Moss Blanket and minerals from the Indigo Quarry. Makes crops always yield the maximum harvest.


Price: 350
Sprinkler
Sprinkler


A sprinkler ensures that your crops are always watered, making them grow twice as fast.
Price: 500
Scareslime
Scareslime
A scareslime is a stuffed tarr model designed to keep wandering slimes away from your crops. Simple, but terrifying.


Price: 425
Notes and Tips
Ranchers can replant any fruit or veggie in a crop plot.
The "remove crops" option will let you uproot a current crop so that you can plant a different crop.

The cost for this is 10.

You can increase your hourly food yield (up to effectively double yield) by harvesting as soon as the crops are grown, removing the crops (10) and replanting it, skipping the regrowth phase.
Fruits and Veggies
Here are all the fruits and vegetables that can grow in the Garden:
Changelog
1.0.1 - The timer was removed from crops, allowing for infinite harvests.
Gallery
Ad blocker interference detected!
Wikia is a free-to-use site that makes money from advertising. We have a modified experience for viewers using ad blockers

Wikia is not accessible if you've made further modifications. Remove the custom ad blocker rule(s) and the page will load as expected.