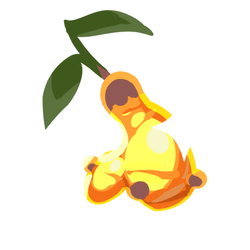 There are 74 possible locations where the Gilded Ginger can spawn in a day.

Since the in-game map is very simplistic prior to being unlocked using Map Data Nodes and this page uses fully-unlocked maps to pinpoint locations, it is recommended to activate the Desert's Map node first before proceeding.
Note that some images may have multiple Gilded Gingers to showcase that a single location has multiple spawn points.
Only one will appear in that location at a time under normal circumstances.
Map
Glass Desert entrance
 

| Number | In-game screenshot | Map |
| --- | --- | --- |
| #1 & 2 | | |
| #3 | | |
| #4 | | |
| #5 | | |
| #6 | | |
| #7 | | |
| #8 | | |
| #9 | | |
| #10 | | |
| #11 | | |
| #12 | | |
| #13 | | |
| #14 | | |
| #15 | | |
| #16 | | |
| #17 | | |
| #18 | | |
| #19 | | |
| #20 | | |
| #21 | | |
| #22 | | |
Tangle Gordo Tower Courtyard
 

| Number | In-game screenshot | Map |
| --- | --- | --- |
| #23 | | |
| #24 | | |
| #25 | | |
| #26 | | |
| #27 | | |
| #28 | | |
| #29 | | |
| #30 | | |
Miscellaneous
 

| Number | In-game screenshot | Map |
| --- | --- | --- |
| #31 | | |
West Slime Gate
 

Number

In-game screenshot

Map

#32

#33

#34

#35

#36, #37,
and #38

#39

#40

#41

#42
Northern Glass Desert
 

| Number | In-game screenshot | Map |
| --- | --- | --- |
| #43 | | |
| #44 | | |
| #45 and #46 | | |
| #47 | | |
| #48 | | |
| #49 | | |
| #50 | | |
| #51 | | |
| #52 | | |
| #53 | | |
| #54 | | |
| #55 and #56 | | |
| #57 | | |
| #58 | | |
Behind the Mosaic Gordo
 

| Number | In-game screenshot | Map |
| --- | --- | --- |
| #59 | | |
| #60 | | |
| #61 and #62 | | |
| #63 | | |
East Slime Gate
 

| Number | In-game screenshot | Map |
| --- | --- | --- |
| #64 | | |
| #65 | | |
| #66 | | |
| #67 | | |
| #68 | | |
| #69 | | |
| #70 | | |
| #71 | | |
| #72 | | |
| #73 | | |
| #74 | | |