Hen Hens are the most common and most widely available Meat in the game, and are one of the first foods a Rancher ever encounters, along with the Pogofruit and the Carrot. They are often found accompanied by their Chickadoo counterparts, or even a Roostro.
When in the presence of a Roostro, they will lay eggs that produce Chickadoos which will grow up into either a Hen Hen or a Roostro. The eggs will hatch almost immediately so unless the player continuously watches the chickens it is unlikely they will be spotted. This process is more efficient in a coop, especially when upgraded. When laying an egg, it has a chance to become an Elder Hen.
Slimepedia Entry
About:
Hen Hens are a special breed of chicken bred to survive the climate of the Far, Far Range. While appearing more or less like a big chicken, these burly birds are much more adept at fending for themselves, making them ideal for ranchers who might otherwise be distracted by a few hundred hungry slimes.
On the Ranch:
Hen Hens in close proximity to roostros will periodically lay eggs that produce chickadoos. However, keeping too many hens or roostros in close proximity makes them anxious and egg production will come to halt. Savvy ranchers with an understanding of the complex nature of chicken romance always keep their coops from exceeding 12 grown chickens.
Tips
Hen Hens spawn frequently in The Overgrowth, so it may be faster to collect them when they spawn rather than breed them once unlocked.
When you skip days, a Coop of 12-16 produces 0-3 Chickadoos a day.
Map
Note that while these locations are precise, they may be on different elevations.
Because they are often found together, this map also applies to Chickadoos and Roostros.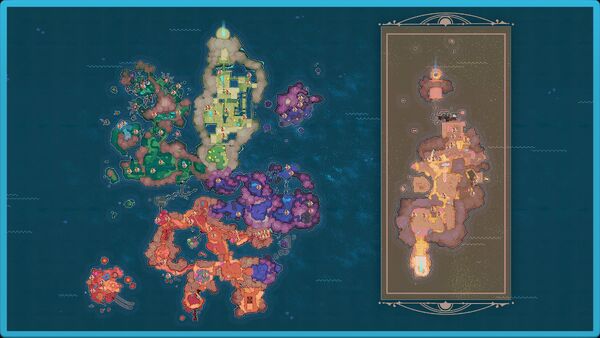 Gallery