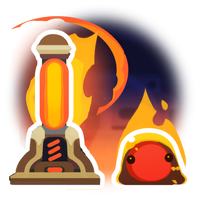 "Don't need it? Burn it!"
An Incinerator will instantly burn anything it touches into ash, and then burn that ash into nothing. It's an excellent solution for eliminating a tarr outbreak or for simply disposing of unwanted slimes if you're a terrible, heartless monster. - Slimepedia
Cost: 450

Upgrades
Ash Trough
Ash Trough


An ash trough allows you to collect the ash of incinerated food at its base, which is eaten exclusively by fire slimes. It's gross.

Price: 500
Ash Trough
Fire Slimes can be kept in the Ash Trough and will periodically consume the Ash to produce fire plorts. You can fill the Ash Trough by shooting food into the Incinerator which collects in the trough; anything other than food will still burn but will not fill the trough. There is no limit on the amount of fire slimes that you can have per Incinerator, but it is recommended not to have more than 5. The Ash Trough can hold up to 20 units of ash. Each food burnt will make 1 unit of ash which is visible as one layer going up.Fire Plorts will eventually burst if not kept in ash, or if splashed with water.
Achievements
You... Monster!

Send an adorable chick to a fiery end, the same place you're now destined to go.
Changelog
1.2.1 - Fixed a bug where the incinerator could destroy glints. They will no longer fight fire with fire.
1.0.1 - Fire Slimes will no longer despawn in an empty trough.
0.6.0 - Updated model, and can now be upgraded with an Ash Trough which can be used to corral Fire Slimes.
Before 0.2.0 - Added.
Gallery