This article is about plort prices. For the plorts themselves, see: Plorts
For the gadget which functions as a mobile Plort Market, see: Market Link
"Feed Slimes, collect plorts, get paid"
The Plort Market is a building located next to the Ranch House. As the name suggests, it is a facility for selling plorts earned from ranching slimes. It is the main method of earning newbucks.
The prices of plorts fluctuate daily, and the change always occurs at midnight in-game time.
Once the Mochi's Extra Mile passive effect has been unlocked, plorts have a chance to award double its stated monetary value.
Slimepedia entry
The plort market is a network of buyers and sellers of plorts across the galaxy. Ranchers use plort market machines on their ranch to send plorts to the market for sale. Ranchers are paid immediately when depositing plorts at the plort's current market value.
Plort market values fluctuate and some of the more savvy ranchers will hoard certain plorts for days when sale prices are high, especially rare plorts.
Algorithm
Market prices are adjusted every day according to a noise (randomness) function. An individual plort's price can change ±30% from its base price; in addition to that, the entire market is also affected by another ±30%. Thus, the total random deviation of a plort's price can theoretically be from 49% to 169% of its base price (though, in practice, the constraints of the used source of randomness actually put the limit at 50% to 167%).
Selling plorts will cause them to drop in value. Each plort sold goes "on the market" and contributes to its market volume. The larger the market volume, the lower the price; in the worst case, when the volume is at or above the maximum, the price is halved.
Examples:
Selling 40 or more Pink Plorts will cause them to roughly halve in value
Selling 15 Rock Plorts will cause their value to drop by roughly 25%
Selling 10000 Plorts will cause their value to halve, and stay halved for about 20 days (10000 × 75%20 ≅ 30)
Selling any number of Gold Plorts will not affect their value significantly, because of the very high volume cap.
Every day, the volume is reduced by 25% of its previous value. Initially (on Day 1), the volume is at 50% of its maximum.
Plort Values
This table showcases an extensive list of plort values currently in the game.
Plort
Plort Prices
Max. Volume
before half price drop
Default
Minimum
Maximum
Medium

10
4
23
10-18
× 40

22
8
50
21-39
× 30

22
8
49
21-39
× 30

22
8
50
21-39
× 30

45
15
99
42-78
× 20

45
15
98
42-78
× 20

45
15
98
42-78
× 20

45
15
99
42-78
× 20

45
15
99
42-78
× 20

60
21
132
56-104
× 15

60
21
130
56-104
× 15

75
26
164
70-130
× 12

60
20
132
56-104
× 15

75
26
165
70-130
× 12

75
25
167
70-130
× 12

60
20
134
56-104
× 15

300
102
658
280-520
× 50000
A market price predictor is available, which can predict market prices from your save file (example results).
Unsellable
The following plorts exist in the game but can not be sold on the Plort Market.
Quicksilver Plort
Quicksilver Plort

Quicksilver Plorts are traded to Mochi Miles' Range Exchange at Mochi's Manor.

Price: 200 are received for every 10; effectively making them 20 per plort.
Upgrades
Mochi's Extra Mile
Mochi's Extra Mile

This passive effect will randomly double a plort's value when depositing plorts at the Plort Market.
Unlock: Trade 150 Quicksilver Plorts with Mochi Miles in Mochi's Manor.
Rush Mode
Main article: Rush Mode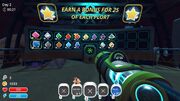 In Rush Mode, all plorts are sold at their default price without any fluctuation in the market or resetting at midnight.
Collecting 25 of any given plort will grant a bonus to improve your score, thus multiplying the amount of Newbucks earned. Selling 25 of every plort will nearly double the profit earned in that run. Saber plorts are not shown on the market, as Ogden's Retreat, and by extension, The Wilds are closed off in this mode.
Gallery