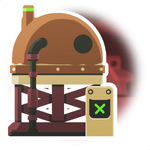 "You can't take it with you when you
go, so put it in storage."
A Silo is a plot used to store excess resources. Purchasing it from a blank plot costs 450
, and can be upgraded a further 3 times to hold up to four resources.
Each receptacle can store 100 units of any storable resource.
Slimepedia Entry
A silo lets a rancher neatly store plorts and resources in a handy, compact unit. Simply shoot into an available silo port to fill it, or vac it to retrieve items within. Remember, a clean ranch is a happy ranch!
Upgrades
Additional Storage
Additional Storage

Price of each additional storage:
2nd port - 500
3rd port - 575
4th port - 650
Notes
A fully upgraded silo can store up to 400 items.
Gallery
Ad blocker interference detected!
Wikia is a free-to-use site that makes money from advertising. We have a modified experience for viewers using ad blockers

Wikia is not accessible if you've made further modifications. Remove the custom ad blocker rule(s) and the page will load as expected.