When Sometimes You Just Gotta Embrace the Slime
"An ancient key for an ancient lock."
"
Slime keys are large, stone keys that are used to open the slime gates across the range. These gates often lead to expansive, new areas to explore or create shortcuts to familiar areas.
"
 

— Slimepedia
Obtaining Keys
Keys are obtained from the following Gordo Slimes:
30 of any food items are required for the Pink Gordos, and 50 is required for all others unless you use the respective Slime's favorite food, which count as two units of food potentially halving that amount to 25. After being fed the Gordo will burst revealing 2-3 crates, a Slime Key and 10 Slimes of the same type as the Gordo.
Note: Both Rock Gordos, both Tabby Gordos, and the Tangle Gordo do not drop Slime Keys; instead they reveal Static Teleporters.
Slime Gates
Slime Keys are used to open Slime Gates. 11 Slime gates exist and are located:
Map of Slime Key locations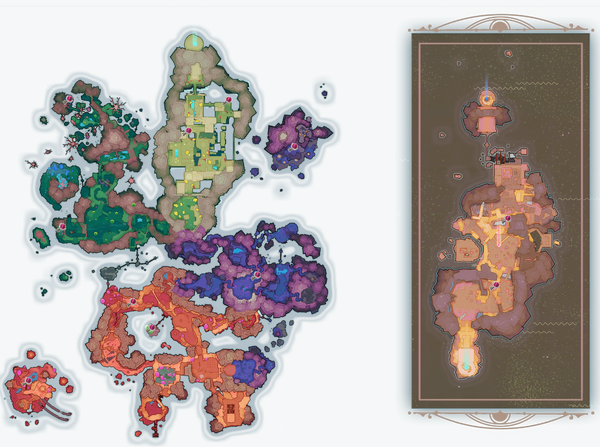 Tips
Three gates are simply used as shortcuts and have alternate paths, so can be left locked:
The Beach can be accessed via The Overgrowth.
One of the gates leading to the Ancient Ruins.

Alternatively, the gate to The Indigo Quarry or the The Moss Blanket can be left locked and the player will still have access to all three zones if unlocking the Ancient Ruins entrances.

The second part of the Glass Desert only needs one of both gates to be accessed.
Although for convenience, it is recommended to unlock all Slime Gates.
Gallery
Ad blocker interference detected!
Wikia is a free-to-use site that makes money from advertising. We have a modified experience for viewers using ad blockers

Wikia is not accessible if you've made further modifications. Remove the custom ad blocker rule(s) and the page will load as expected.