Under Construction
This page is currently Under Construction.
Please help contribute to this page by adding information and photos to it.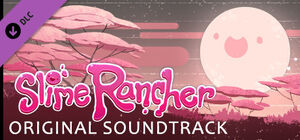 Slime Rancher Soundtrack is the soundtrack album of Slime Rancher, released August 1, 2017 along with the Official Release of the game, and available for purchase on Steam. All soundtracks are made by Harry Mack with the exception of 1,000 Light Years Away, being marked with Chelsea Lee Greenwood as the Album Artist.
There are a total of 37 Soundtracks, some are not played during gameplay, but exist in the Game Files or used during release trailers. Majority of these are a variation of at least one of the tracks that is played on a certain in-game time.
Official Soundtrack List
Ad blocker interference detected!
Wikia is a free-to-use site that makes money from advertising. We have a modified experience for viewers using ad blockers

Wikia is not accessible if you've made further modifications. Remove the custom ad blocker rule(s) and the page will load as expected.