Under Construction
This page may be under a major overhaul, is brand new, or is insufficient and may not yet fit in with the rest of the wiki. Any information posted here may not yet be completely accurate.
Please help contribute to this page by adding information and photos to it.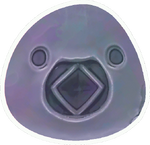 Slime Statues are large stone statues which resemble slimes. Two types of those exist: normal ones which are used as decorations around the Far, Far Range and the others, who have in their mouths a hole carved in where you can put a plort in, which are used for puzzles. There are three examples of these puzzles, located at the entrance to The Ancient Ruins which requires various plorts from different slimes, the teleporter to The Glass Desert, which requires a couple Quantum plorts, and at four different fountains within the Glass Desert itself, each of which require plorts from various Slimes found within the desert.
The Ancient Ruins Plort Statues
The Glass Desert Plort Statues
These statues are used to bring life back to the desert. They activate fountains around the desert.