Under Construction
This page is either brand new, or is insufficient and may not yet fit in with the rest of the wiki.
Any information posted here may not yet be completely accurate.
Please help contribute to this page by adding information and photos to it.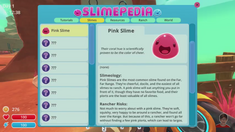 The Slimepedia is an in-game encyclopedia accessible from the Menu (pressing Esc or F1 by default or on Xbox up on the D-Pad) which provides information on various aspects of the game, as well as any discoveries made during the course of the game.
At the start of the game, a majority of the entries are locked. When a new discovery is made, an icon pops up on the bottom right hand side of the screen and its Slimepedia entry is accessible from that point on.
There are currently 83 available Discoveries.
Discoveries include:
Tips
If a player completes all available discoveries in the Slimepedia, they will be awarded the Achievement: Pro Style.
Gallery
Ad blocker interference detected!
Wikia is a free-to-use site that makes money from advertising. We have a modified experience for viewers using ad blockers

Wikia is not accessible if you've made further modifications. Remove the custom ad blocker rule(s) and the page will load as expected.