"
The Glass Desert is a fascinating place but you need to be on your guard: at any moment a dangerous solar anomaly can occur that will cause all heck to break loose for a spell.

You'll know when you see it, and when you do, head for cover or risk burning your tuchus!

"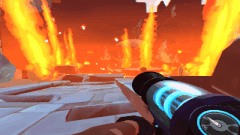 "Head for cover or risk burning your tuchus!"
Solar Anomalies, also referred to as Firestorms, are random hazardous occurrences in The Glass Desert. Their arrival is indicated beforehand by the air turning orange-red and a drastic change in music, before changing again when fire pillars erupt from the ground.
Fire Pillars
The most immediate threat of a Solar Anomaly is the fire pillars that erupt from the ground and can spawn almost anywhere near Beatrix. When they appear they remain for some time until the firestorm passes. During their duration they can produce a variety of other hazards:
Large glints similar to the Mosaic Slimes'; when they hit the ground they produce more temporary fire hazards.
Large, fiery rocks will be sent flying that can damage Beatrix on contact. They disappear when they hit the ground.
Will quite often spawn Fire Slimes, which damage Beatrix on contact.
Slimes shot into a fire pillar will produce stars on contact and give them some lift, as well as agitate them.
What To Do
The best thing to do first and foremost is not panic. Although the fire pillars and their hazards are intimidating, they stay in a single spot. So once a firestorm has fully established the pillars are easy enough to avoid. Survivability is also increased significantly with Heart Module upgrades.
When a Solar Anomaly arrives the best thing to do is take shelter. Oases are the best protection from the fire pillars and rock projectiles spawned in firestorms, as they disintegrate on contact with the shields surrounding the Oasis. If you don't have access to an Oasis, try to keep out of the open ground.
Trivia
Solar Anomalies are the only regularly occurring non-Slime hazard. It is also unique in that it is specific to a certain zone.
It is the only hazard that has two music tracks; one played after the other.
During the prototype version of The Glass Desert, the fire pillars and other debris was merely the model used to create the Boom Slime.

The erupting fire pillars are merely streched out models for the Boom Slime.
Changelog
1.1.1 - Firestorm effect should now activate/deactivate more rapidly when teleporting to/from the desert during a firestorm.
0.6.0 - Implemented.
Gallery
References
↑ https://twitter.com/coinopthinktank/status/905549962057990144 https://twitter.com/coinopthinktank/status/905549337647648768
Chris Lum provides screenshots of the WIP Firestorms on Twitter.
Ad blocker interference detected!
Wikia is a free-to-use site that makes money from advertising. We have a modified experience for viewers using ad blockers

Wikia is not accessible if you've made further modifications. Remove the custom ad blocker rule(s) and the page will load as expected.