Your home and hub for all your needs. Here you can raise Slimes, grow Food, upgrade your Vacpack, sell your farmed Plorts and use the Range Exchange. Futhermore, aspects of the ranch can be modified using the 7Zee Rewards Club upgrade path.
Beatrix begins her life on a humble ranch in the middle of an area of the Far, Far Range known as the Dry Reef. Once the property of the legendary slime rancher and notorious old codger, Hobson Twillgers, the ranch has seen better days, as Hobson let it come into a state of disrepair shortly before disappearing.
Ranch Plots
You have several plots at your ranch and at the expansions of your ranch - 8 on the main ranch, 4 in the Overgrowth, 5 in the Grotto, 4 in the Docks, and 5 in the Lab which gives you total of 26 Plots. You decide how your ranch will be organized. Provided you have enough money, you can build six various buildings with various upgrades to help with slime ranching.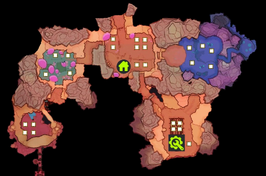 Expansions
| | |
| --- | --- |
| | Grotto is an expansion to the ranch set inside a (slightly spooky) cave. |
| | Overgrowth is an expansion to the ranch that is covered in moss and tall grasses. |
| | Docks is an expansion to the ranch with a view to the sea and a waterfall. |
| | Lab is an expansion to the ranch, where Slime Science is conducted. |
Plots
A corral is used to keep slimes on a ranch. The open-air corrals are designed for maximum slime satisfaction, with the rich soil of the Range beneath them and its expansive sky above them. Slimes...
Main article: Corral

The gardens used by ranchers use advanced technology to rapidly grow clones of fruits and veggies in a natural, though greatly sped up way. By placing a sample into the replicator, the gardens...
Main article: Garden

Though many ranchers simply let their chickens roam the ranch, a coop is the tool of a serious poultry producer. Coops keep Henhens and Roostros close, allowing for maximum egg-laying...
Main article: Coop

A pond gives you a source of fresh water on the ranch that you can use for watering gardens, calming slimes in a corral, defeating tarr, or giving your Puddle Slime a place to hang out.
Main article: Pond

A silo lets a rancher neatly store plorts and resources in a handy, compact unit. Simply shoot into an available silo port to fill it, or vac it to retrieve items within. Remember, a clean ranch is...
Main article: Silo

An Incinerator will instantly burn anything it touches into ash, and then burn that ash into nothing. It's an excellent solution for eliminating a tarr outbreak or for simply disposing of...
Main article: Incinerator
Other Facilities
The plort market is a network of buyers and sellers of plorts across the galaxy. Ranchers use plort market machines on their ranch to send plorts to the market for sale. Ranchers are paid immediately when...
Main article: Plort Market

A Vacpack is a tool which is used to suck up and blast out anything that is not nailed to the ground. This can be food, slimes, plorts or various other items. It is also equipped with a flashlight...
Main article: Vacpack

The Range Exchange is one form of communication between Ranchers across the Far, Far Range that allows you to exchange goods from your ranch with goods from theirs. The Exchange is a type of...
Main article: Range Exchange

The House is...well, your house of course! It's the perfect place to rest after a long day of exploring the Slime world and feeding your slimes. You can sleep here if you want, and skip right to the next morning. The House is also your spawnpoint, meaning if you got overwhelmed by Tarrs, or accidentally fell into the waters of the Slime Sea, you will always safely return to your humble home.

But that's not all: you also receive Starmail here from people all over the Slime world! They will nicely notify you whenever you have unlocked a new upgrade for your trusty Vacpack, and give you other useful information. Well, although that's everything there is to your house at this moment, there will probably be more functions added in future updates.
Main article: House
Changelog
0.5.1 - Certain aspects of The Ranch can now be visually upgraded with the 7Zee Rewards Club; includes a gate, visual improvements on the fences and stairs and new brick flooring. The House and Tech can have their colours changed with Chroma Packs; another reward from 7Zee.
Trivia
Every time you start a new game, there's 4 Pink Slimes, 3 Chickadoos, 3 Pogofruit, 3 Carrots, and 2 Hen Hens on the Ranch.
Most of the ranch expansions represents an area of the Far, Far Range. The main part of the Ranch represents the Dry Reef, The Grotto represents the Indigo Quarry, The Overgrowth represents the Moss Blanket, The Docks represents the Slime Sea; though the Lab doesn't seem to be representing any place, it might be the Dry Reef as well.
Ad blocker interference detected!
Wikia is a free-to-use site that makes money from advertising. We have a modified experience for viewers using ad blockers

Wikia is not accessible if you've made further modifications. Remove the custom ad blocker rule(s) and the page will load as expected.