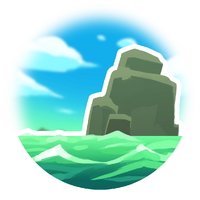 "An expansive body of a water
and slime compound that's not
fit for swimming, let alone drinking."
"
The Slime Sea that covers most of the Far, Far Range is something of a mystery. It is seemingly a mixture of water and slime that is believed to be the primordial pool where all slimes emerged, though its true purpose is entirely unknown by even the most esteemed slime scientists.

What is known is that the liquid found within the Slime Sea is not fit for drinking, watering crops, or even swimming, as most things seem to quickly sink to the bottom. When a slime enters the Slime Sea it quickly vanishes but it is widely believed that this far from ends the slime's existence, for slimes that enter the sea can often be seen quickly returning back on land, happy as ever. In fact, many slime scientists believe that slimes use the sea as a means of transportation, moving swiftly below the surface and popping out on land wherever they see fit.

But all theories aside, one fact remains very clear, most especially to ranchers: don't enter the Slime Sea! -Slimepedia

"
Environment
The water of the Slime Sea is blue with a turquoise tint. To get over the Slime Sea, there are a series of wooden bridges resting on rocks coming up from the water. There are also small islets made of rock that can be walked on and have fruit-bearing trees on them.
Usage
The Slime Sea is useful mainly as a means to get rid of both un-needed slimes or items and the pesky tarr. It is one of the main three ways to deal with Tarr.
Consequences
If one tries to dive into the Slime Sea, they will simply be knocked out.
If one somehow goes far enough into the Slime Sea, they will have many glitch issues.

If one goes far enough into the Slime Sea, then they will be located in Unknown.
Trivia
The Glass Desert is the only zone not located in the Slime Sea. Instead, it is surrounded by a sea of golden sand that is slowly moving; coined by Hobson in one of his notes as the "sand sea".