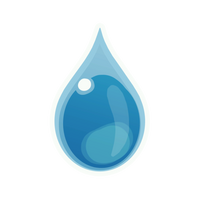 Water (also referred to as fresh water) can be found in Ponds, in small lakes and at Water Springs. It is an invaluable resource when traversing the Far, Far Range, however before water can be stored in the Vacpack, the Water Tank upgrade must be purchased.
Water cannot be vacced from The Slime Sea due to its unique composition of water and slime.
Usage

Water's primary use is to fight back against
The Tarr
when they appear.
During the night, splashing a Tarr once will stop them from being able to reproduce when eating a Slime, and splashing it twice will destroy it. During the day, Tarr will be destroyed in a single hit.
In addition to being a deterrent for Tarr, it also has a plethora of alternate uses:
Ancient Water

Main article: Ancient Water.
Ancient Water is a temporary effect obtainable from Fountains used to rejuvinate Oases in The Glass Desert.
Gallery
Changelog
1.1.0 - (Undocumented) Collecting water from a harvest node now provides five units of water instead of one.
0.2.5 - Make it easier to collect water from the fresh Water Springs In addition, all water visuals are improved.
Before 0.2.0 - Implemented.